Custom Mattresses – designed to your specifications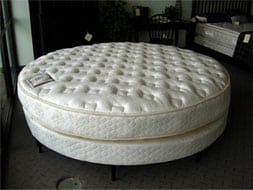 Since we handcraft our own mattresses and box springs, we make custom-sized and shaped mattresses built to your specifications. Whether you're creating a size to fit your personal needs or looking for an odd size for an antique bed frame, we can build a product to your specifications. Please contact one of our locations or contact us for further information.
Custom mattresses take approximately four weeks. Custom box springs are also available. We need precise dimensions to make your set and give you an accurate price, including length, width, and depth.
If you are unsure of how to measure, we can assist you via telephone, or you may pay a nominal transportation fee for a technician to visit your home, take measurements, and suggest the appropriate mattress or set to customize. This fee also includes an insurance policy guaranteeing your set will fit perfectly. Let us build the bed of your dreams!
Waterbed replacement mattress
Get your custom mattress quote
Crib Mattresses
At Holder Mattress, we understand the importance of a good night's rest for you and your baby.  Research shows that utilizing the proper mattress in infancy through adolescence promotes healthy sleep habits for a lifetime.  Infants should sleep on a very firm surface as a preventative for suffocation as babies learn to roll over.  Babies may move to a toddler bed style at twelve months and older with more cushion for comfort.  We build both a standard crib mattress with a firm surface feel on both sides and a dual crib mattress with a firm infant side and a plush toddler side.  This allows you to flip the mattress to meet your child's needs as they age.
Crib mattresses are typically a standard 52" length, 27.5" width, and 5" depth. However, they, like all of our products, can be made into custom sizes and shapes to accommodate play yards, bassinets, antique cribs, or any other child's bed you may have. It is also critical to note that we only build non-toxic products.  All of our mattresses are guaranteed to be free of toxic chemicals and flame retardants that are common in national brands.  Babies are highly sensitive to toxins, and limiting their exposure to these materials is of utmost importance.  You can sleep comfortably knowing your infant or toddler is sleeping on naturally flame-retardant products that haven't been treated with chemicals to achieve this federal requirement.
Pet Beds
We must admit that some of us sleep with dogs and cats.  But more of us have come to love sleeping on our own Holder Mattress with our best friend sleeping on their own Holder Mattress.  We build soft yet supportive quilted pet beds.  We also add a layer of natural wool to help with temperature regulation, dust mites, allergen detraction, and comfort for aging/arthritic hips.  They can accommodate any size pet bed frame, crate or enclosure, or any size pet.  Tell us what works best for you and your furry friend, and we'll create it.