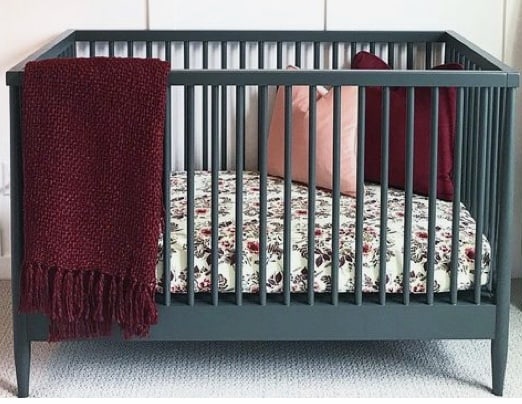 I recently had a parent ask me about mattresses for her sons. She's concerned about all the right things, off-gassing, chemicals, support, durability, etc… But she's not sure where to start. It's understandable; the internet will take you on a wild goose chase. I've been in the mattress industry since I was a kid myself, thanks Grandpa!, but even I struggled with what to do when expecting my first child. Since then, I'm on to my second child and ready to offer unsolicited advice when it comes to making mattress choices for yours.
(Full disclosure: this is a looooong blog, please scroll to the appropriate age/topic/etc. for your inquiries. Headings are provided so you don't have to read it all…)
CRIBS (NEWBORN TO TODDLER)
Fit
FIT IS FIRST! Before anything else, know your crib/bassinet/play yard/etc… dimensions! Whatever baby enclosure you're considering, the mattress should fit so snug you can't put more than two fingers between the mattress and side. This prevents baby limbs from getting stuck between a crib and a hard place. All new cribs come with preferred mattress dimensions. There's typically paperwork in the box or a sticker underneath the platform for the mattress. If you're one for nostalgia and opting to use a family heirloom, measure carefully. Twice. Maybe three times. We make crib mattresses so anything is possible… but we rely on your dimensions unless we are asked to measure, which we will.
Cushion
Little to no cushion is best. Because of risk of SIDS and suffocation, all crib mattresses should be firm and have very little quilting and/or cushion. Should a baby roll to their tummy and not be able to roll back, we don't want their squishy little faces to be smothered by softness. We have one particular design of mattress that has an infant side with no cushion and a toddler side with extra cushion, so you only have to purchase one mattress for both stages, but be very aware of which side is appropriate at what stage (more on that later). This is also the reason you don't see bumper pads for cribs anymore.
Flame Retardants
Believe it or not, the same division of the CPSC (Consumer Product Safety Commission) that regulates mattresses, also regulates stuffed animals and other children's goods. Flammability compliance is a strict requirement in kids items just as it is in mattresses. However, we're very careful about the materials we use. In our crib mattresses you will find low melt polyester fiber. No toxins, no added chemicals. This is not necessarily true for national brands. We can adhere to the lowest mandate of flammability because Indiana does not have a specific standard and we don't sell in all 50 states like other brands do, requiring them to adhere to stricter guidelines, like those in California. The strictest guidelines call for materials like antimony trioxide and boric acid. While known carcinogens and pest poisons will protect the mattress from completely going up in flames, we prefer to protect our little ones (and our factory staff!) from inhaling these toxins on a daily basis.
*Remember, labeling a mattress as "organic" doesn't necessarily mean it's free of these materials. Only a certain percentage of a mattress needs to be organically sourced, in some cases as low as 70%, to earn the certification. The rest of the mattress can be anything else, and let's face it, the flame retardant layer is a mere fraction of the overall content of the mattress. It also happens to be the material closest to or on the surface of the mattress, and has the most contact with the user. You can ask any manufacturer about how they meet flame retardancy standards, they don't have to tell you, but it's best to try to be informed.
We make a choice to use safe materials in all of our mattress, every size, every quality, because we care. We may not offer the best protection for the baby who falls asleep with a lit cigarette in his mouth, but we're ok with that.
Protectors
We recommend mattress protectors for all sizes, but I personally love the encased protectors for cribs. Babies are messy. Diapers leak, bottles do too. Babies will sweat and drool. While a fully encased protector is difficult to take on and off larger sizes, generally it's easier to remove the crib mattress altogether to put on and take off protectors and fitted sheets as they sit so snugly in the crib. Pro tip: use two at a time, one underneath the other. I liked to layer the bedding so if one needs to come off in the middle of the night, the other is already on the bed, ready to go. The less I can do in the middle of the night, the better. Mama likes her sleep.
Toddlers
Congratulations! You've survived the first year! Once baby hits that first birthday, crib mattresses can be flipped over or swapped out for softer toddler mattresses. Toddler beds are usually the exact same size as cribs, and some cribs allow you to remove a side and add a guardrail to become toddler beds. Our Dual Side Crib Mattress has a smooth no cushion infant side that can be flipped over when the time is right to reveal a quilted, cushioned surface with more padding for more comfort- hopefully keeping them in bed longer! (Disclaimer: Holder Mattress Co., Inc. does not guarantee the number of hours babies and/or toddlers will spend in slumber on said products. Consult pediatrician for guidelines on expected hours of sleep.) I hear babies that don't sleep turn into teenagers that sleep the day away. I'll let you know- I'm not that far yet!
BIG BOY/BIG GIRL BEDS (Toddlers to Teens)
Making the Switch
At some point they start to look a little cramped in those cribs… and we may find other uses (I.e. siblings), so it's time to move on to a real mattress. Sometimes a twin is best, if the room is small or you have thoughts of bunk beds or daybeds. Sometimes a full size is the choice, specifically if you are using a convertible crib which becomes a full size headboard and footboard. Don't worry if you didn't buy the side rails or conversion kit- we sell those and can set them up for you. Sometimes a queen is best. I went this route, as my crib will house another child, the room size supports a queen, and it's a better size should we host more than one couple overnight- the kid will get relocated to the daybed in the playroom and I have a second queen for guests. Ultimately the choice of bed determines the size of mattress.
Twin
If you are thinking about a daybed or bunk bed, which are often twin size, keep in mind that depth is important, and dictated by the bed arm height or guard rail height, etc. The depth will determine what mattresses are options, so know this measurement first. These beds also eliminate the need for a box spring. In the case of bunk beds, there is a platform or slat system to hold the mattress. This firms up the feel of a mattress more than a box spring would, so remember that mattresses tried in store will feel firmer on the daybed. Kids also make less of an impact on a mattress than adults because of the weight difference, so generally mattresses feel much firmer to children than they do to parents. Err on the softer side, they'll be more comfortable that way. Typically twins aren't purchased for longevity. I rarely talk to a parent who is putting their toddler on a twin mattress that they expect them to use until they're off to college. However, if you are considering that, think about purchasing the box spring as well, even if the bunk bed doesn't accommodate it. You will have the option to use it later when the bunk bed isn't the best choice, and it's typically cheaper to buy a set than a mattress now and a box spring later. Also consider whether an extra long twin might be an option. This is very rare for daybeds, but bunk beds sometimes give the option for extra length. A standard twin is 74" long, while an extra long twin is 80" long (the same length as queen or king). The size is half of a split king, and a standard dorm size, so finding bedding for extra long twins is very common. It also is a better choice for your child who might currently be topping the charts at 3' but is expected to wind up at a family record height of 6'5". The extra length might be appreciated down the road. Back to daybeds, some of them have the option of using a link spring in lieu of a platform or slats to hold the mattress. This gives a similar support to a box spring and allows the mattress to give. It's essentially rows of coils that are horizontal instead of vertical, but makes the mattress feel softer and can help with the durability of an innerspring mattress. This is definitely a good option. Be wary though, sometimes the wires of the link spring can tear at the mattress ticking (fabric) so it's helpful to place a layer of thick fabric between the mattress and spring (if you aren't using a bed skirt) or even a large section of cardboard to prevent holes and/or tearing.
Full
Full size is a popular option because of the convertible style cribs that I mentioned earlier. It's becoming more rare for uses other than kids rooms, so the bedding available is usually kid themed and in lower thread counts. It can be found, but may take a little more effort than showing up to your favorite box store. Full is also a 74" length, so it's not well suited to adults or kids in the 90th percentile on the height charts. However, I've found that kids sleep in all sorts of interesting positions, so this may or may not be an issue. The front and back of cribs become the headboard and footboard, respectively. The side rails or converter kit (metal side rails) are either hooked in or bolted on and the full set placed on top. Sometimes these kits also come with guard rails, but if not they can be purchased and generally work with any bed size to prevent your little one from rolling out as he gets used to his new sleeping environment. My personal favorite trick for this is not a guard rail at all, but instead a pool noodle. You can use them whole or slice them in half lengthwise, but placing a foam pool noodle on the mattress under the fitted sheet to hold it in place, provides just enough of an edge to keep the kid in the bed at night, and at a much lower cost than a guard rail. Plus, you can use it for a variety of other things, my son prefers it to be a sword, but I'm sure there are more appropriate uses. Full extra longs are also available, for the same reason as twin extra longs, but mattresses in this size are usually considered custom and bedding is almost always difficult to find. Plus, it's the same length as a queen and only 7" narrower so it just makes more sense to go with a queen if you have the room.
Queen
I mentioned the benefit of a queen, and using it as an additional guest room, but there are other benefits as well. Queens are the most common American size, and bedding is easily found in a variety of styles, thread counts, materials, etc. I personally like the abundance of clearance bedding found in queen size. I'm a sucker for a good deal. There is also an abundance of bed and headboard styles available. It's also a great floor model discount size as stores show most beds in queen size. Styles, fabrics and finishes are always being discontinued, so good deals can be found on the furniture end as well. The extra space also makes guard rails, or pool noodles in my case, less necessary as the babes would have to scoot pretty far to get to an edge. It's an adult length, so no issues there. If you choose queen, it's most likely a long term choice, so go with a mattress that is adult, every-night-use worthy. It may be more support or luxury than your small child needs, but it will wear better and may not need to be replaced until you're dealing with empty nest syndrome.
General Info
For any of the above sizes, you can make a choice when it comes to box spring depth. A low profile box spring may be a better choice for a little kid crawling in and out of bed and can work well for adults, too. Bed steps are also an option if you've chosen a taller bed, higher box spring or thicker mattress. I also want to stress the importance of protection. Babies and toddlers aren't the only ones who need mattress protectors. Kids eat and drink in bed, even when you tell them not to! Adults lose about half a liter of moisture each night as they sleep, kids lose less, but they sweat in bed, too. Dust mites, allergens, flu viruses, etc… are all good reasons to keep your mattress protected, so you're preventing instead of googling how to clean. (There are no good ways to remove urine from a mattress, but a thick white towel and a heavy weight to absorb moisture, followed by standing the mattress on it's side in a well-ventilated room to allow air to pass through both sides, plus a febreeze or fabric refresher, can help in removing some of the moisture and odor. Adding additional liquid is not recommended, but mild soap and water, while not getting the mattress too damp can help remove some staining. Do this once and you'll understand why we love prevention!)
WHEN THEY'RE NOT KIDS ANYMORE
College
Ok, so they've (you've) made it! You're ready to ship them off. Maybe you aren't ready, but alas, the time has come! College rules vary. Typically dorms don't allow you to bring your own mattress as they provide one. If they do, you may not be able to remove the one they've provided for the room, so you'll have to find a spot to stash the one they were given. (Totally doable- I did it!) Check with your particular university, but most are extra long twin. You'll need to know this for bedding. Keep in mind the intended use. Will this be used for a couple of semesters and then passed off for a larger size in the sophomore year apartment? Will this end up on the floor of a frat house or cold air dorm? Don't send a good mattress to college- it has too much value. You won't want it back. Be practical here. Spend little, expect less.
First Apartment
I think one of the best gifts a child can receive is a good mattress set for their first experience with truly independent living. They will greatly appreciate it. They've likely just come from college- they appreciate sleep in a way they never have before. They are grateful for a larger bed than they had in college, and possibly one they will share with their (future) spouse. Splurge a little. Buy the bigger size, buy the better quality. Think about your first real bed as an adult. Many of us still have ours, maybe now they serve as a guest bed, but they tend to stick around. This is the bed that teaches the lesson about spending wisely. Buying for value, not price, emphasizes the importance of quality when making large purchases.
Hopefully this is a helpful tool that you can refer back to from time to time over the course of say two decades or so. We know the choices you make for your child are the most important and sometimes most difficult choices. We do everything we can to help you make good and reasonable decisions. Our staff is well trained so you don't have to be.
Questions? Comments? Send an email directly to me (Lauren, a.k.a. The Mattressgrl) at ltaylor@holdermattress.com. I'd love to hear from you!
About the author : Lauren Taylor
Related posts
Popular products
[fusion_widget type="WC_Widget_Products" hide_on_mobile="small-visibility,medium-visibility,large-visibility" fusion_display_title="no" fusion_padding_color="30px" fusion_margin="0 0 35px" fusion_bg_color="var(--awb-color2)" fusion_border_size="0" fusion_border_style="solid" wc_widget_products__title="Products" wc_widget_products__number="4" wc_widget_products__orderby="date" wc_widget_products__order="desc" wc_widget_products__hide_free="off" wc_widget_products__show_hidden="off" /]
Product categories
[fusion_widget type="WC_Widget_Product_Categories" hide_on_mobile="small-visibility,medium-visibility,large-visibility" fusion_display_title="no" fusion_padding_color="30px" fusion_bg_color="var(--awb-color2)" fusion_border_size="0" fusion_border_style="solid" wc_widget_product_categories__title="Product categories" wc_widget_product_categories__orderby="name" wc_widget_product_categories__dropdown="off" wc_widget_product_categories__count="off" wc_widget_product_categories__hierarchical="on" wc_widget_product_categories__show_children_only="off" wc_widget_product_categories__hide_empty="off" /]